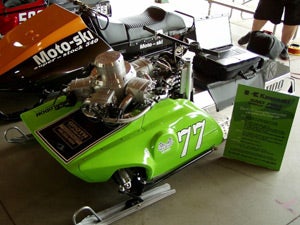 It can be tough to focus on a Tuesday when you have as much fun as I did last weekend. The weather in St. Germain held out just long enough to get the show and awards ceremony completed, thank you very much. The show was great. High fuel costs and a rough economy don't seem to be slowing anything down. There was a lot more swappers this year - and a lot more exotic
I'll have more photos and sleds of interest to talk about for several weeks. But today I'm going to focus on the sled the judges picked for "best of show". Brad Warnings 1977 Kawasaki SnoPro Custom named… uh, well, I can't print the sleds actual name. The sled raised every eyebrow there, as well as several questions.
The cylinders are extremely rare - they are original 77 Kawi SnoPro cylinders. The rest of the motor was completely developed from scratch.
Please take a moment to absorb that. The entire motor was built from scratch.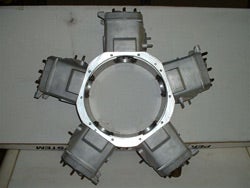 I became aware of this sled some months ago and I will admit, my first question was "why?" I could see it would be an enormous amount of work and risk; would such a thing even work? But as they showed some of these pictures to me, I began to understand.
It's a rare opportunity to work on and own something truly unique and special. It's a truly amazing piece of technology. It's a dream come true for Paul Groth, who has envisioned this motor in his head for decades, and now gets to see it come alive. It's about the uniquely American attitude of climbing mountains because "it's there".
That's a little on the "why". I asked Brad to fill us all in on the how:
"I have always enjoyed restoring and customizing snowmobiles. I always do as much work as I can on my own. But this project went to such an extreme, that I had to call in the three guys that I knew could pull it off. Paul Groth, Al Enno and Jim Costa.

The idea for this sled started in the fall of 2005, but spun out of control rather quickly. Because of my interest in flying, I wanted to adapt a radial airplane engine into a 1977 Kawasaki Sno Pro reproduction snowmobile chassis. I pitched the idea to Paul Groth ("The Bud Man") of Groth Tuning while he was visiting for the NHRA Fall Nationals. Paul said it would be easier for him to simply build an engine from scratch. He said that he had an idea for an engine, like this one, in his head for almost twenty years. Paul then proceeded to draw the motor for me on a napkin (I'm not kidding, he drew it on a napkin!!!), to illustrate how it would work. We settled on a five cylinder design using rare Kawasaki Sno Pro cylinders, heads and pistons. The only problem was that nobody had ever attempted to make a radial in this manner. It would all be custom. After many phone calls back and forth over the next few months, Paul started making the engine in February 2006.

The crankcase and covers were made from billet aluminum, the crankshaft and rods are steel. The crankshaft bolts to a right angle gear box. The Comet 108 clutch uses a chevy small block starter. The carb is a Weber, the carb intake is billet aluminum, the supercharger is from a Mercedes 230, and the blower intake manifold is billet aluminum. It would be cooled by the front radiator and heat exchangers.

Paul would spend the next two years making the entire engine. He sent pictures every week to show me what progress he had made.

In the summer of 2007, Paul was ready for the chassis to continue the mock up stage. It only took one call to Al Enno (Sno Pro Unlimited). The complete rolling 1977 Kawasaki Sno Pro reproduction chassis was built to Paul's specifications and delivered in just two weeks. A temporary IFS front end was installed just for mock up.

When it came time for balancing the crankshaft, it was sent to an aircraft machine shop. They said it would run good at 1800 rpm, but would probably shake quite a bit since radials are known for that. Paul explained that the motor would have to idle at 1800 rpm and rev to almost 9000 rpm because of the radically ported Sno Pro cylinders. When they said that was impossible because most radials do not spin past 2500 rpm, Paul told them to send it back and he would balance it himself.

The ignition was the next problem. After several calls to MSD and Mallory went nowhere, Paul met with their respective technicians at another NHR A event. After getting the deer-in-the-headlights look from the book-smart-only technicians, you guessed it, Paul decided to build his own ignition. He then drilled the carb jets as big as he could to get maximum fuel to the engine. Next was the exhaust which had to exit out the back. By February of 2008, the engine was complete.

Paul bolted it into Al Enno's chassis and cut a gigantic hole in the Shark hood. After putting the rear end on jackstands, he added coolant, fuel and primed the carb, the moment of truth had arrived. Seven hundred hours of Paul's hard labor were all on the line. Suddenly, my cell phone rang. All I could hear was a very loud noise and Paul yelling in his best Dr. Frankenstein impersonation, "IT'S ALIVE, IT'S ALIVE!!!"

The engine idles at 1800 rpm and the clutch engages at 3500 rpm. The only problem was that even with the jets drilled out as far as they could be, the engine was still starving for fuel. He pushed it to 6000 rpm, but he did not want to go higher until the fuel issue could be resolved. The engine does NOT shake one bit at any time, at any rpm. It is perfectly balanced. The carb would have to be taken off and every fuel passage drilled out to the maximum. But, there was no time to fix it. The sled had to be at the Classic Sled Roundup on Memorial Day weekend and there was too much fabrication yet to be done. I made a quick trip to Paul's and picked up the sled.

The sled was then taken to a race vehicle fabrication shop called Performance Concepts which is owned by Jim Costa ("JayCee"). Anything and everything which has to do with racing gets custom built there. I had to book my spot two years in advance because the waiting list is that long to get in. I never got to help on the engine or the chassis because Paul is seven hours from me and Al is ten hours away. But this would be different because Performance Concepts is only five minutes from my house. Watching JayCee work is better than watching any custom fabrication show on television. We started by putting in two to four hours a day on the sled. But, the last two weeks before the show were anywhere from eight to twelve hour days.

The temporary IFS suspension was removed and an entire custom IFS suspension with race car shocks and springs took it's place. The entire steering and rear seat section are also custom. The hood was too hard to take on and off, so it was cut into three pieces and heavily modified. While Collision Revision painted the hood, Tom Kelly lettered the top of the engine and made all of the decals. The dash would be carbon fiber and the tach and blower gauge were a must. I wanted to use several antique airplane gauges but only the engine hours and directional gyro would fit. I had to include the working 300 mph speedometer which Paul had given me. He used on his first Budweiser Sno-King (which was Boss Cat II) and he went 168 mph with it.

Keith Warning stopped by for lunch one day at the shop and said that the sled would look great with a parachute. JayCee got out one of his old ones and I bolted it on. That was exactly how this project went from day one. Anytime someone threw an idea out there, there was a good chance it would stick. Three days before the St. Germain show I realized I had made a critical mistake. I forgot about a seat. I ran to Mark's Custom Interiors, and even though they are backed up for almost eight months, Mark dropped everything and made the seat!

The sled was still not complete. It needed heat exchangers, the carb reworked, a clutch guard, a tether kill switch and a battery box. But all that would have to wait. The St. Germain show was only twenty four hours away.

For the show, we decided to remove the drive belt for safety. Then there would be no need to put the back end up on jack stands, rev the motor and risk an accident. We had found out earlier that the engine revs very quickly and that the sled likes to leap forward. I brought my laptop computer and put it on the seat of the sled. It ran a slide show of two hundred and forty pictures showing every step in the making of the sled. There were no secrets to hide. I wanted everyone to see what happens when you gather very creative people together and then turn them loose on a project like this one. Talk about the lunatics running the asylum! Calm down, they know I'm kidding!

One man at the show asked me: Was I going to sell the sled to make money? What's the point of even building it? What's the payback? I simply told him, "The sled will never be for sale. The reason for building it was to show everyone that anything and everything is possible. And the "payback" is that three of my friends have proven it."
I think that is pretty darn cool, and congratulations to Paul, Al, Jim, Brad and everyone else who worked on the project.
So does it run? Stay tuned! As soon as I get the video uploaded, you can hear this monster yourself!